Eight-year-old Brock Vanderwoude is non-verbal and has cognitive delays that affect his learning, but the village he grew up in refused to make these challenges a hurdle to his education.
Important points:
Brock Vanderwoude lives with a variety of disabilities, but his school and the local community have given him equal access to education
The small school in Cobdogla, Riverland, received $ 500,000 in government funding to invest in inclusive facilities
Brock's family urges other regional schools to begin inclusive education
Brock, who uses a wheelchair, lives with disabilities such as autism, persistent epileptic encephalopathy, and Ehlers-Danlos hypermobility syndrome type III.
He cannot walk or speak, but he wants others to know that he has the same education as other children because his small local school – Cobdogla Primary School in Riverland – was ready to support him.
Brock's father Paul said the school's commitment to truly equitable education is a "legacy" for everyone.
"It's not measurable," he said.
"It means a lot to us, just the fact that it really gives Brock the best opportunity to grow and develop mentally.
"The level of inclusivity this creates for every boy and girl, and it doesn't matter so much whether you have full, highly complex needs like Brock or just need this space to calm down and relax and get ready again .
"It is such a great legacy for every boy and girl to be accepted now."
Invest in inclusivity
Cobdogla Primary School director David Ness said he felt it was important to really make the school, with just over 100 students, accessible to everyone.
"We created an inclusive environment for all children at the school by adopting this," he said.
The school, which received almost $ 500,000 from the state government, was able to build two new accessible classrooms and a sensory room.
Brock's classmates from Cobdogla Primary School in one of the new accessible classrooms. (
Delivered: Cobdogla primary school
)
"This space of the senses is absolutely amazing," said Ness.
"It's basically the size of a classroom and we can put Brock's lifter in there, he has his own swing, and all of the specialty equipment is included to make sure he has all of the study equipment he needs."
Brock, who also has special feeding needs, now has an in-room kitchen that caregivers can help him out.
"The school is so happy that we were able to offer Brock this inclusive learning environment," he said.
Accessible education for everyone
Although Brock had only had access to the new facilities for a few months, his father said his development progress had been "astronomical".
"We thought if Brock could hold a spoon and feed himself through 7th grade it would be a success," said Vanderwoude.
But now the goals have shifted.
"We achieved that within 12 months of Brock's school days," he said.
"This is the school's commitment to making education accessible to all boys and girls."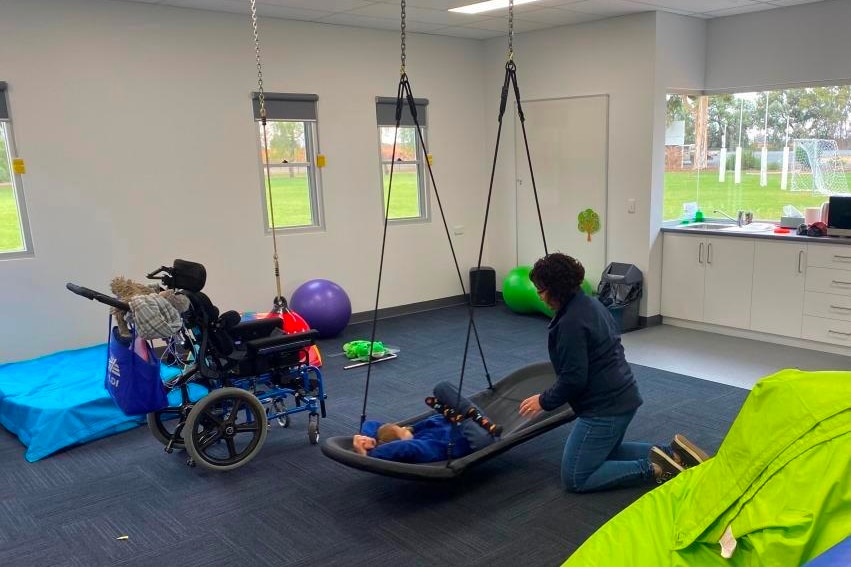 Brock in his specially built swing in the school's new sensory space. (
Delivered: Cobdogla primary school
)
Brock and his family often have to take a three-hour drive to Adelaide to gain access to services that are not available in Riverland.
"We made a joke that if we turned on the autopilot, the car would only know how to get to Adelaide because we had to make this trip a lot … just to get access to support," said Vanderwoude.
"I am sure that many parents in our position would sympathize with that.
"Having this facility here, in the regions, on our doorstep is just … difficult to put into words."
Leaving a legacy for everyone
Brock's family is now committed to better support and services for other children with highly complex needs in the regions.
"The more we talk about disability, the more normal it becomes," said Vanderwoude.
"They increase that level of inclusivity even further."
Mr Vanderwoude said for families in his position he would encourage them to get involved with their local communities and schools.
"Make your school proactive in accessible learning to leave a legacy for all children.
"We need to make education accessible to all boys and girls, regardless of their needs."