IIt seems like the internship from hell. Ben, 23, diagnosed with autism and obsessive-compulsive disorder and who has an extreme need for order and structure, spends a day as a park inspector for a Sydney city council. The group he is assigned to is hit by a variety of vitriol from the public including "Worst job in the universe!", "You are so hated!" and "you're a damn dog!" At the end of the day, Ben politely admits that this job may not be for him.
This scene was captured by filmmaker Cian O'Clery in his new documentary series Employable Me, which follows a group of subjects with neurodiverse diseases (including autism, obsessive-compulsive disorder, and Tourette's syndrome) on their way to work. The three-part series premiered on ABC television last night.
O'Clery, who also directed the great Changing Minds: The Inside Story, said that Ben was chosen based on the above experience because "we decided what could possibly use his skills and abilities. " reflect some of the things he gets into, like following the rules and paying attention to detail. "
Krystyna has an obsessive interest in geography and an extraordinary memory. Photo: ABC
And although the extent of abuse by the inspectors surprised the director ("We expected some abuse, but not as much"), he believes it was a positive experience for Ben. "What they picked up was how well he was with people."
O'Clery has become an attorney specializing in recruitment services for people with disabilities. He says "some companies have stepped into this area" but "a lot of people told us they couldn't even get over the interview." One of the main arguments of the documentary is that the employer has tremendous benefits if the proper care and consideration is invested in finding a job for people with disabilities.
Cain, 22, is one of the nine main themes in Employable Me. Seven of them, including Cain, have a diagnosis of autism, the lifelong developmental condition that is estimated to be shared by one in 100 Australians. Cain is more than open about his cognitive disability; He speaks with inspiring openness and honesty.
However, the Sydney resident disagrees with the suggestion that he be brave: "To be so open about certain aspects of my personality, I don't think that should be considered brave," he told Guardian Australia. "I think a lot more people should be doing it. I don't think there should be so much concern to say yes – I am a person who has this, that and that.
We expected some abuse, but not that much. Filmmaker Cian O'Clery
"The amount of honesty and openness I've shown on the show is like that in pretty much every social situation I find myself in. I find it much easier to be open and honest and admit what is actually happening. because that's how you get help. "
Some of the topics in Employable Me are exceptionally gifted in certain areas. Krystyna, for example (whose story is captured in episode two), has an obsessive interest in geography and extraordinary memory, including phenomenal trivia skills and the ability to recall everything she did on a given day. Tim (from the first episode), who is diagnosed with autism and extreme social anxiety, has tremendously impressive analytical processing skills, which makes him an ideal choice for jobs like software testing.
But O'Clery adds, "The fact of the matter is, not everyone has incredible memories or an amazing math mind … When someone comes off as a little weird or a little different, it's easy to just go ahead or say something was wrong with you. 'But if you understand what their condition is like and where they are coming from, and see beyond that, hopefully people can get jobs based on their ability to do the job rather than their ability to sell themselves. "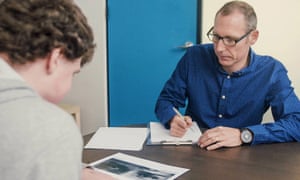 Cain speaks to clinical psychologist Steve Den-Kaat in Employable Me. Photo: ABC
Cain's dream job is to make a living as a professional film critic. The third episode captures his pursuit in the field and follows him when he experiences a recoil, then a great advance that leads to his first taped interview with a world-famous director. For the 22-year-old, watching movies has always been much more than just recreation.
"I had a real relationship with film from a young age," he says. "In elementary school, around the first or second year, I would recite lines from the breakfast club on the playground while supervising after school. Of course, it was mostly John Bender's dialogue, so I'm pretty sure everyone has learned some great new words.
"Seriously, I still associate myself with that way of thinking today. Because of my social awkwardness and my very analytical outlook, it has always been easier for me to relate to movies than people … But as Employable Me shows, I and many other people can be some of the hardest working people an employer ever can has seen. All it takes is that we get a chance. "
• Employable Me will continue on April 10th and 17th at 8:30 pm in ABC and is available to find out more about iView