Both state and Commonwealth laws require schools to make "reasonable adjustments" to accommodate disabled students.
However, a 2018 study by the Castan Center for Human Rights Law at Monash University found that 15 percent of families struggled to enroll their disabled child in a mainstream state school in Victoria, and the same proportion felt pressured into school to leave.
"This often comes in the form of headmasters who discourage parents from applying for enrollment for their child because the school is not suitable for the student or cannot meet the student's needs," the report said.
Mr Merlino said the practice – commonly known as gatekeeping – is devastating for parents and children.
"The ugly lottery was the term some parents used, and it was about whether their local school included students with additional needs and welcomed them, or whether they were frankly saying that little Johnny, little Julia, was better at that School is going to be down the street, "Merlino told The Age.
"We don't just have to reform the PSD [Program for Students with Disabilities] Funding, but also ensuring that every school is truly an inclusive school and thus eliminating the days of the ugly lottery for parents. "
The number of students in need who receive additional support in the classroom will double to 55,000 by 2025.
Currently, only four percent of students in state schools are eligible for assistance, for example from teaching assistants under the program.
Children must be "properly diagnosed" and meet strict benchmarks to qualify for funding. This is what Mr. Merlino calls the "deficit based approach".
"Children are judged on really cold, strict medical criteria," Merlino said.
This will be removed as part of the funding changes that will be implemented across the country by 2025.
Instead, more than 100 facilitators – a newly funded role – meet with parents and schools and discuss the strengths and learning needs of students with disabilities and how they can best be supported.
Mr Merlino said some students who previously missed targeted funding – such as those with autism, dyslexia and behavioral problems – may now be eligible.
Schools would also get extra money to spend on skilled staff, equipment and teacher training, which would benefit every fifth Victorian student – about 130,000 – who has additional needs.
Jacinta Parkinson's son, Kaleb, has autism but did not meet the strict criteria for an autism spectrum disorder under the previous funding model because of his excellent language skills.
In 2012, Ms. Parkinson was forced to try an alternative criterion to get him funding: Serious Conduct Disorder.
After Ms. Parkinson tried for six months to prove his qualification by these criteria, she was eventually given a class assistant for caleb.
Jacinta Parkinson and her son Caleb.Recognition:Jason South
"It was really mentally demanding because you have to paint your child as a monster," said Ms. Parkinson.
"You have to tell them the worst behavior they've shown. And that's awful because you want to build your child up and not knock them down. It was a very grueling, mentally and physically demanding process. "
In 2018, Kilberry Valley Primary in Hampton Park was one of 100 schools that piloted the new funding model.
Ms. Parkinson, who was the school council president at the time, said it was a game changer.
The school used the funds to hire a special needs teacher to work with class teachers and hold small-group sessions with students who needed additional support.
"And that made all the difference because the teachers were a bit lost in how to deal with many learning difficulties in the classroom," said Ms. Parkinson.
"Letting someone come in and really be able to implement some of these routines and strategies made it a lot easier for the class teacher, which then made it easier for the kids too."
Ms. Parkinson said you could see the difference in the playground.
"It's hard to describe, but you could see that much of their stress levels were gone and they were interacting more with other children."
Kaleb is now in eighth year of Rowville Secondary College, where he is in regular classes.
Victorian Opposition Formation spokesman David Hodgett said the policy changes were long overdue.
"Parents should be able to make decisions about their child's education with the confidence that their child will have every opportunity to reach their potential," said Hodgett.
"Likewise, schools should be able to receive all students with the full knowledge that they will receive funds to support all children regardless of their ability. The criteria must be clear and transparent so that they are fair and well understood. "
Phil Hayes-Brown, executive director of the Wallara disability group, said the $ 1.6 billion increase sounds great but feared a lack of training for teachers.
"Inclusion isn't as easy as adding ramps for wheelchairs, there's a lot more," says Hayes-Brown, whose daughter has an intellectual disability.
"I urge Minister Merlino to launch this initiative to ensure that the critical component of teacher training is not overlooked."
In 2015, the Victorian government announced that all registered teachers would have to focus their professional development on teaching disabled students and that prospective teachers would have a component in their tertiary education.
But Molly Watts, who is studying a Bachelor of Inclusive Education at Monash University, believes the unit taught in general apprenticeship degrees isn't enough.
"With the current mainstream degree, you are not really equipped as a prep teacher and will become a class teacher," said Ms. Watts.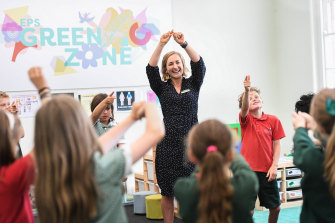 Nicola Smith, deputy headmistress in Elsternwick, with 3rd grade students in the "green zone" including classroomsRecognition:Joe Armao
Elsternwick Primary was one of the schools that piloted the new funding model.
Assistant Principal Nicola Smith said the school used some of its funds to set up a "green zone" including classrooms after meeting a moderator and the families of students with disabilities.
The inclusive area with Lego and reading corner, yoga mats and stuffed animals is used as a retreat for children who find the schoolyard overwhelming at lunch and during the break, to teach the curriculum for wellbeing and for therapy sessions.
"When you start talking to kids and getting their perspective, you find that traditional classroom setup doesn't always work for everyone and they find it pretty overwhelming so that another room can really work for them."
Ms. Smith said after participating in the pilot, the Elsternwick Primary leadership team completed an inclusion course for autism leaders.
This taught them strategies like using visual schedules with pictures of what is going to happen during the day, color-coding textbooks, and putting quiet kits in each classroom that contain sensory objects like squishy balls or wriggling toys that children can use help calm down.
Ms. Smith sees teacher training as one of the great advantages of the new model of disability funding.
"If we want to have inclusive education, teachers need to know how to best support children."
Start your day informed
Our Morning Edition newsletter is a curated guide to the most important and interesting stories, analysis, and insights. Sign up here.
Jewel Topsfield is the social affairs editor for The Age. She has worked as an Indonesia correspondent in Melbourne, Canberra and Jakarta. She has won several awards including a Walkley and the Lowy Institute Media Award.
Mostly seen in politics
Loading